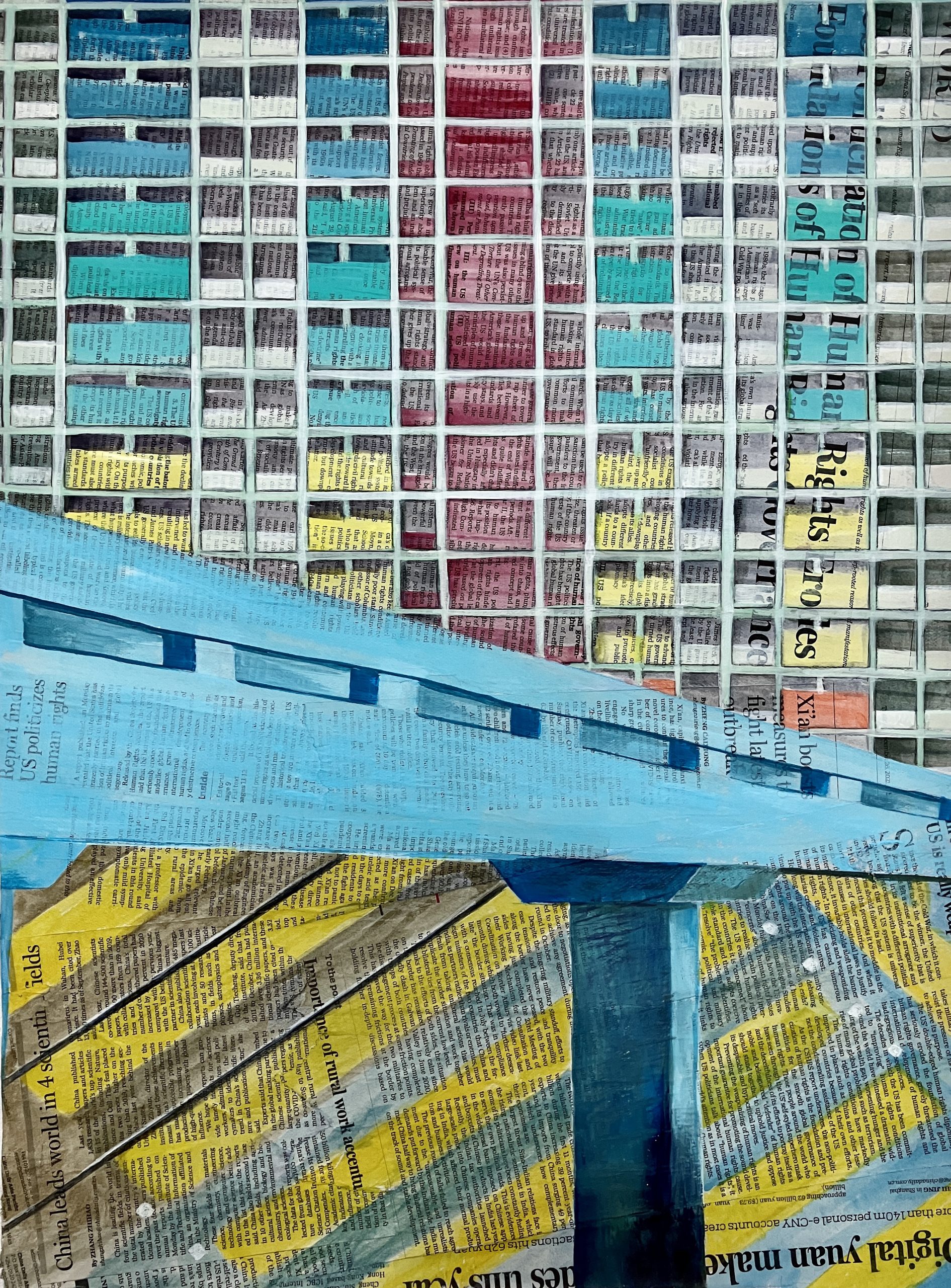 17"x22.5" (acrylic, newspaper, collage on canvas ) December 2021

The use of an English newspaper as the base for the artwork is an interesting choice, as it represents the colonial history and Western influence on Hong Kong. By painting the three distinct locations on top of the newspaper, I am highlighting the unique cultural and historical significance of each place within the context of a changing and evolving Hong Kong. It's a beautiful way to capture the essence of the city and its complex identity.
Three distinct locations in Hong Kong:
– Choi Hung Estate ("Choi Hung" is the Chinese translation of "Rainbow"),
– Shek O -Blue Bridge (also referred to as Lover's Bridge),
– Queen's Road (Central zebra crossing).
It's interesting how social media can bring attention to things we may have overlooked or taken for granted in our daily lives. The rainbow-colored buildings of Choi Hung Estate are a well-known landmark in Hong Kong now, but it's understandable how you may have missed them growing up. It's always exciting to discover new things about the places we call home.

The Shek O-Blue Bridge is a popular destination in Hong Kong for stargazing. Located on the southeastern coast of Hong Kong Island, the bridge provides a clear and unobstructed view of the night sky. The bridge is especially famous for its romantic atmosphere, earning it the nickname "Lover's Bridge." Many couples visit the bridge to enjoy the breathtaking view of the stars and the sea. The bridge is also a popular spot for photographers looking to capture the beauty of the night sky.


Queen's Road is a major road in Hong Kong. It was originally built in the 1840s and named after Queen Victoria of the British Empire. Today, Queen's Road is an important commercial and financial district. Symbolises the prosperity of Hong Kong.